The Importance of Expressing Yourself with Angela Filangeri
Montauk has always drawn the creative type. From the larger-than-life Peter Beard to the Rolling Stones, artists of all types come to town to seek inspiration and refuge, and express themselves around the town for all to see. One such artist is Angela Filangeri, art teacher at Montauk School, who we commissioned to paint the MTK sign for this summer season. We were lucky enough to sit down with Angela and discuss her passion for art, her love for Montauk, and the importance of encouraging creativity.
Explain to us how you found your passion for art. What led you to make it your career?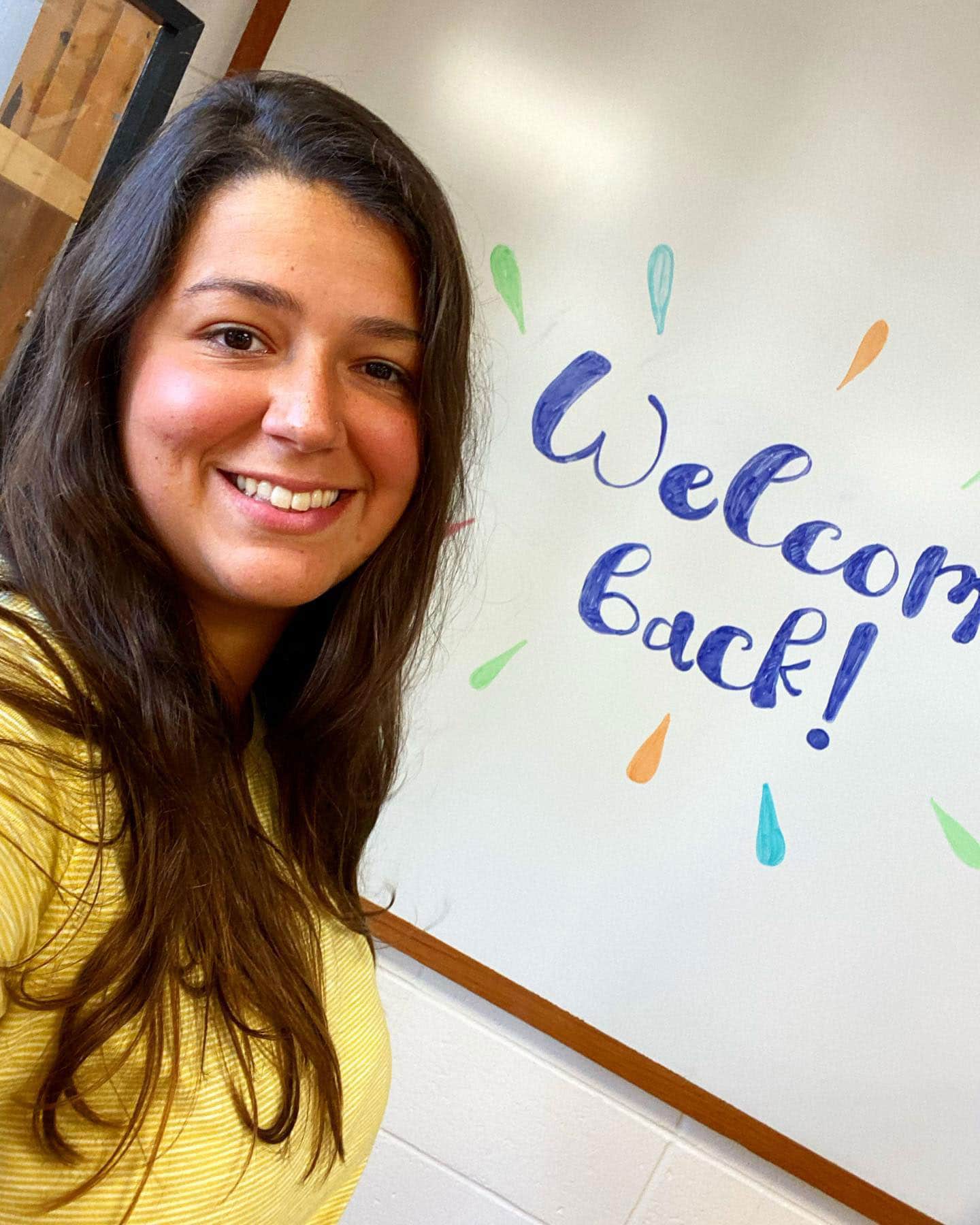 As long as I can remember, making things was always what I found myself doing in my spare time. As a kid it would be string bracelets I'd sell at the beach, jewelry out of pretty rocks and beach glass I would collect, and I even tried teaching myself how to knit. I knew that pursuing something creative was always the route for me. When I was working on my BFA, my course load was full of all different classes such as dark room photography, ceramics, drawing,  painting and even graphic arts. I had never met more talented people than my professors and that made me realize how hard I had to work, knowing I'd have students looking up to me like that one day.
What brought you to the East End? 
My job! I told them during my interview it was my life goal to move further east. Not only did I do it at 27, but I went as far east as it gets.
The most rewarding part about teaching young kids to embrace their creativity? 
The most rewarding part to me is seeing them create something based on what I teach but making it their own. I have a vision of what the projects I come up with will look like based on what I am teaching, but the best part for sure is seeing the unique decisions kids make that differentiates each outcome.
Favorite memory in/of Montauk of all time. 
My favorite memory is actually the day I interviewed for my job here at the school. I decided to go and sit on the beach in town when it was over, and within minutes I saw two humpbacks playing in the water. It just felt like a good sign to me. Turns out, it was!
Why do you think art is such an important outlet for not only kids, but everyone? Why is it so important for children to be able to express themselves?
Being able to express creativity through art simply just makes you feel good! Creating something and admiring your final outcome is such a rewarding feeling and is important for a person of any age to continue to experience. Expressing yourself is something you learn as you grow, so it is super important for kids to learn how to guide their artistic expression to become their own unique self.
How did you come up with your idea for the MTK sign? Where do you source your artistic inspiration?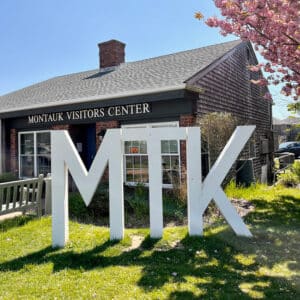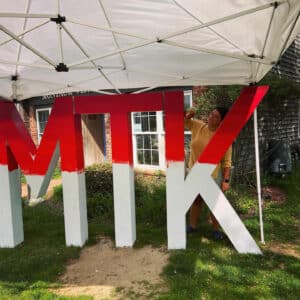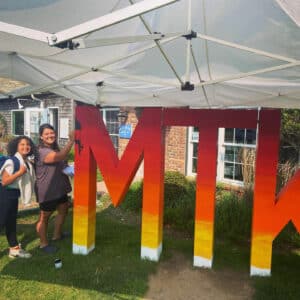 When I was thinking about ideas for the MTK sign, I definitely wanted to keep the best aspects of this town in mind. Many people are going to be seeing this painting whether they have been here before or are visiting for the first time. To me, my favorite part is the beautiful sunsets we get each night. So I wanted to begin with a warm setting sky. That led me to the idea of the silhouette as the sun is setting over the important details of where we live. When you envision Montauk, I feel like a lot of people might think immediately of the lighthouse, so I felt like that was a must. Adding the ocean, the breaching whale, and other aspects of nature just felt like the obvious next steps to represent this amazing place.
What is Montauk to you?
Montauk was always my little getaway. I've been coming here since I was a kid. Now that it is my home, I don't really need a getaway. You can find so many places to go and just relax which is just the most amazing feeling.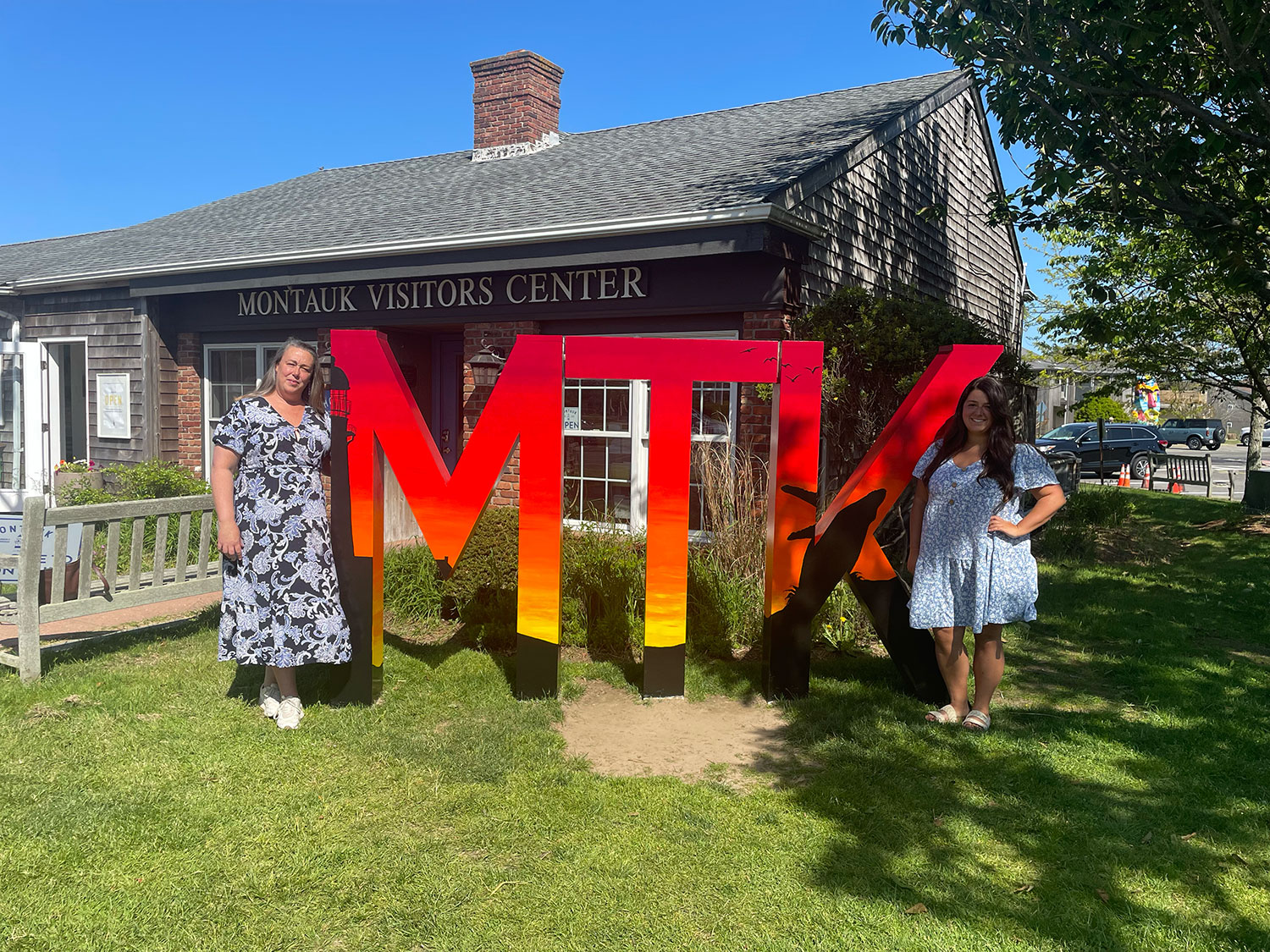 Stop by the Visitors Center to check out the new sign and be sure to tag @visitmontauk and #visitmontauk so we can see your photos.